Viewing Post for: Inca Trail I 2013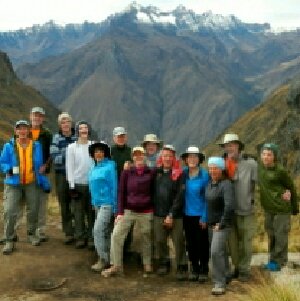 Date: July 18, Thursday
Location: Last campsite on the Inca Trail, 10,000 feet, 10 miles, two passes, 13,800, 13,200 feet. 11 hours walking
Intense day. Some were feeling the long up and downs. Super steep steps. Weather made for world class views of glaciers, 20,000 foot peaks and many ancient Inca sites. Some of their ceremonial baths are still running. Lunch at 3:30. We are sleeping within sight of our destination, Machu Picchu. We have to prepare tips for our wonderful porters now so not much time to write. 
The following is a haiku written by Karen 
Haiku means let's go in Quechua language.  Willow is one of the guides.
Willow says Haiku
Aching muscles stress and strain
 Andes view no pain
---
Messages for this post
Currently there aren't any messages for this post.
No more comments are allowed at this time.