Viewing Post for: 2013 Kilimanjaro Cancer Climb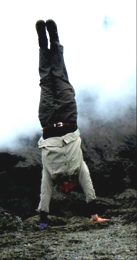 Date: February 16, 2013 3:00 pm
Location: Karanga Camp
4.5 hours hiking. 13,200 feet. High point 14,000

We climbed the intimidating Barranco wall today. Up through the rocks. Most amazing was the porters with bags balanced on heads climbing rocks. Early day to camp. One is a little sick the others who were down a little yesterday are strong today. 10,000 feet below us are the plains of Africa. We are above the small planes. The African crew continues to amaze us. For example tea and popcorn all laid out on bright red cloth awaited us at the high point of the climb. Other groups are envious. We were again met upon arrival at camp by the Africans slinging and dancing. We joined in. Amazing experience. We are starting to realize that summit night is fast approaching. Some nervous conversation as the group shares.

We are having trouble with the audio computer in NY so apologize if we have no audio for you. Out of our control.

Thanks for your comments. We read them at breakfast in the dining tent.
---
Messages for this post
For: Jennifer
Thought you might be getting close. We left the ranch yesterday for a big VB tourney in ABQ, supporting our youngest. Back tonight, thinking of you. My happiest memories of "Billsville" are the walks I took with you. Hope they see you through as well. Much love.
---
Erin - 2/18/2013
For: Marianne and Torey
I'm so proud and envious of you. What an awesome achievement! I expected to see a handstand, Torey, looked great. Send a kiss to Jacquie for me. Stay safe and enjoy.
---
Bree - 2/17/2013
For: Big T and Marianne
Summit day tomorrow! I am SO PROUD of both of you and everyone on the trip. Please tell Jax thank you so much for all she does for me. I know that she looks out for me, and I so appreciate her guidance. I BELIEVE in you both, sending constant thoughts your way. Love you!
---
Megan D - 2/17/2013
For: Rick
Planning on having Marcia over for food, wine, and hot tub! Don't worry, we will think of you!! Be safe!
---
Lisa and Lori - 2/17/2013
For: Dad and moo
You have already come so far and we are all so proud of you. Life isn't about the destination, it's about the journey. On your way up, take a look at the stars in the sky and take a deep breath. Think about where you are headed and where you came from. Believe in yourself and get ready to see the most beautiful sunrise this world has to offer. When you get to the top give Jax a hug and kiss for me. Tell her I miss her and love her very much.
---
TJ - 2/17/2013
For: yusef and yahiha
YOU GUYS ARE THE BEST!!!!! None of us (except maybe Rick) could have done it without you and your smiles,encouragement,nagging, singing and carrying of our gear.
---
Lisa 2012 - 2/17/2013
For: everyone
Not sure if I am too late to encourage you before the summit but in either case I know wherever you are and whatever you have done it was fantastic and a huge accomplishment. Take a moment to look up at the stars, to look down at the dirt, to look across the valley and most especially into the eyes and hearts of all those who experienced this with you. Time stands still when you are out there and before you know the demands of the western world will be back on you. capture it in your soul.
---
lisa 2012 - 2/17/2013
For: Mooie
Dogs are great!!!!
---
Sissy - 2/17/2013
For: Moo, uncle Torey and all the kili climbers
Well, this is it guys! U have made it every step u could and Ur final ascent is upon u! U have angels lending u their wings they will guide u and hold Ur hand, the rest of your journey! U are about to view the most beautiful sunrise most people will never get to experience, u r almost to heavens doors now go tell your loved ones hello once more! Uncle Torey and Mooie, Jacquie is so proud of u as are the rest of us! I love u will all my heart be safe and go kick some ass!!
---
Sissy - 2/17/2013
For: Agnes and Tom
What a great adventure! Something to tell the grandkids! Please wish the entire climbing party safe and enjoyable travels. Stay safe! Dennis and Lynne
---
Dennis and Lynne in Groton - 2/17/2013
For: Torey and Marianne
Torey, I might have known that if there was a flat surface anywhere,you would find a way to do a handstand!Too bad you can't point your toes in your boots!!As you all get closer to the top, those of us back here waiting for you envy your courage and determination.There wiil probably be an incredible sunraise for you, delivered by our Angel,to greet you at the summit.Reach up and touch her and give her a kiss from me,and tell her thank you for keeping you safe.Love,Sharon
---
Sharon - 2/17/2013
For: Tammy
We knew if we looked hard enough we'd find you, even half way around the world! Hope you're doing well and not feeling the effects of the altitude too badly. We climed the stairs one extra time today and we're completely pooped so we got peanut butter covered pretzels... looks like you get treats for accomplishing new heights too :-) Take it all in so you can tell the stories later.
---
Your girls - 2/17/2013
For: Troy
You are now so far up in elevation that you would be looking down on the Rocky Mountains. One foot in front of the other. Set small goals and next thing you know you will be on the summit.
---
Duffy Books (Richard) - 2/17/2013
For: Mommy Mooianne
You are almost to the top! Please be careful, and don't worry about us, we are really having a great time! Can't wait, only 5 more days til you are home-we miss you! We have a surprise for you when you get home! Love you mommy! PS-Sky wasn't supposed to tell you about the surprise.:(
---
Molson & Skyy - 2/17/2013
For: Marianne, Torey and all the climbers
This may be the last post u read before Summit Day. I have been up since 4am thinking of you. I am so proud of u Marianne, u r doing something so amazing and life changing, I am in awe of your courage-Torey, u prove to us that we r as young as we feel, and the rest of u r reaching the goal of ur lifetime. Stay strong, try to keep warm, and don't stop til u see that sunrise! All my love and prayers go with you to the top of the mountain. Be safe. Love, Me
---
Mom/Sheryl - 2/17/2013
For: Marianne
A busy day for me event running. You're probably up and climbing already & I missed te breakfast reading. I believe in you! Tell Pumpkins I love him.
---
Autumn / Pumpkins - 2/17/2013
For: Danielle
Keep up the good work. Glad you had your running shoes to wear. Just remember, pole pole.
---
Marilyn - 2/17/2013
For: Dad and Marianne
Wow! Looks like you are all making some great progress and having lots of fun. We are following your every move and you are doing great! Hope you had fun on barranco wall and got some good pictures. We miss you and love you. Keep up the good work and hope you are feeling okay. Keep pushing through and you will make it!!! Love always TJ
---
TJ - 2/17/2013
For: moo
It's after midnight here and its officially my birthday and in honor of Jax, you and uncle Torey I did a shot of soco lime! Mac n cheese and I love you both! Xoxo
---
Raegan - 2/17/2013
For: Eric
So great to see and hear you today! Caroline was here tonight. She tells us everytime how much she loves the kiddos! Went to Nancy's bday party. Casino theme. Surprised?!?! It was really fun, played a lot of 3 card poker. There was a raffle afterward. Jerry won a book of mormon ticket. He has NO idea what he's in for!!! I'm sure you are all getting excited for summit day. Please be safe! Love you!!
---
Lori - 2/17/2013
For: Tammy and all kili climbers
You are doing it!! Remember one step at a time. It is not high you get or how far u go it is about the journey along they way.
---
Kilikaren - 2/17/2013
For: Tom and fellow travellers
From 'The Journey' by David Whyte Above the mountains the geese turn into the light again Painting their black silhouettes on an open sky. Sometimes everything has to be inscribed across the heavens so you can find the one line already written inside you. Sometimes it takes a great sky to find that small, bright and indescribable wedge of freedom in your own heart.
---
Diane - 2/17/2013
For: Tom and fellow travellers
I just got home from the Bamff Mountain Film Festival and could not help but think of you all. (Got a chance to chat with Steve French too) I am in awe of your drive and passion for adventure! I hope you and your companions are feeling healthy and strong. You are achieving something GREAT!!
---
Diane - 2/17/2013
For: All you glorious and determined fellow Kili-climbers
We drank beer and ate sandwiches at Ginny Norris's JOI party tonight, reminisced about the slide down through the skree...and then we talked to YOU, Rick. It was 4am, your time, pre-summit. (You did sound a bit tired. Small wonder.) By the time you read this, you will have gone to the top and returned, you amazing climbers. Troy, I hope you feel/felt better. However high you each got, you did it! Take in that remarkable journey you have made... And now, just imagine those hot showers!
---
Phyllis and Marty Korn of Kili '09 - 2/16/2013
For: CHRIS LILLY
Are you're ears popping yet? Survivor started again this week... I didn't bother to watch it... I just tuned in to all of you guys instead! You're doing great Chris, how are the feet?..any blisters yet?...as always, stay safe up there!
---
AUNT SUE AND UNCLE DAVE - 2/16/2013
For: Big T and Mooianne
You're getting so close! But please remember, the most important thing is that you come home safe & sound. We are all with you, every step of the way. Especially Jacquie. When you get to the top and you blow her a kiss, please also blow a kiss to my Bear for me. Can't wait till you are back home and we can all give you hugs. Hope you are both feeling OK & it's not too difficult for you. Please be careful & take care of each other. I love you both very much!
---
Aunt Deee - 2/16/2013
For: Joyce and Dave
Happy Summit Day! Have fun, take pictures, enjoy the moment and be safe. By the way, I talked to Grandma last night and she is enjoying reading these posts. P.S. Kiliminjaro is only 800 feet higher than Kala Patthar. We're thinking about you...love, EMIKO
---
Emiko - 2/16/2013
For: Moo and Uncle Torey
We LOVE you all !! We're wine drunk but thinking about you and Ang wrote a very nice message and my phone shut off so there is more to come when she gets home but we wanted to send our love to you all.
---
Angela and Katie - 2/16/2013
For: Torrey Marianne and all climbers!
Torey (Mr. Hirsch) I am out with Fahn having a delicious beer (jealous?)and she asked me if I had seen the post today I hadn't so I checked it out and I am amazed! I love the headstand!! You are awesome and you all inspire us to enjoy every day and keep climbin! When push comes to shove you taste what you're made of...then you HANDSTAND! Love you! Ash
---
Ashley Huer - 2/16/2013
For: Dad (Troy)
It sounds like you are having fun. I just want to say have fun on your way down to the plains. Love you!
---
Kara - 2/16/2013
For: Torey
Tomorrow is the RGA meet for the 7s. It won't be the same without you there but we are going to do really well just for you! Good luck to you as you get closer to the top of the mountain!
---
Rachel - 2/16/2013
For: Agnes and Tom
What an amazing adventure you are having! We are enjoying the daily posts. Miss you and can't wait to hear more. Stay safe.
---
Amy and Steve - 2/16/2013
For: The Group
"You know that place between sleep and awake...the place where you can still remember dreaming? That's where I'll always love you...that's where I'll be waiting". Tinkerbell KEEP BELIEVING
---
Home - 2/16/2013
For: Uncle Torey and God mommy
Sending you hugs and kisses. All is well here. I'm just eating and pooping like normal and waiting for you guys to come home! LOVE YOU mean it!!!!
---
Molly - 2/16/2013
For: Joyce and Dave
Cool picture of the person doing a handstand! I hope both of you did one as well. Hope the altitude isn't too bad for either of you. Thanks for all the updates.
---
Carla - 2/16/2013
For: Uncle Torey and Mooie
We are so proud of you guys! You are doing so well and inspiring so many other people. We know that Jax is with you every step of the way. She will give you strength when you are tired and sprinkle some pixie dust on you to help to get to the top. Please know how much all of us miss you and can't wait until you are back home. We love you both so much. Keep BELIEVING!! PS- The dogs are great!! PPS- Mom is not kidding, she is really stalking you guys!LOL
---
Danielle and Matt - 2/16/2013
For: Moo
I miss you! Keep climbing high! Love, Blue
---
Blue - 2/16/2013
For: To Torey
Awesome picture of the handstand! We are so proud of you. Keep believing! I know Jax is with you and Marianne as you climb! Love you! Keesha, Jeremy and Savannah
---
From The Keilly's - 2/16/2013
For: Marianne, Torey, and all climbers
P.S. Nice handstand !!! Sure hope that's not Torey!! Yikes!
---
Mom/Sheryl - 2/16/2013
For: Marianne, Torey, and all climbers
Good to hear that most everyone is feeling well-to those of u who aren't, I'm sorry :( It's getting closer to the top-I'm so proud of all of u!Moo & Torey stay strong almost there! People have said remember "polo,pole", I'm thinking more like "shower, shower"..just a thought!Take in all u r doing and seeing, what an amazing experience.Stay safe, warm and dry if u can. We r sending u much love and prayers to get u thru the next days. Dogs r doing very well-enjoying all the
---
Mom/Sheryl - 2/16/2013
For: Torey
Sounds like an unBELIEVEable experience! Higher than the planes...I can't even imagine. Stay strong! Thinking of you - Love & Aloha.
---
Nicki - 2/16/2013
For: Chris
You are almost there now! You must feel so much closer to the stars at night. Are you glad you brought the heavier sleeping bag now? We know you will make it, then probably wish you could ski back down! Thinking of you every day and night, can't wait to hear your voice again. Love Jen and Sage
---
Jen and Sage - 2/16/2013
For: Mike and Jenn
The summit awaits you! It is wonderful to be able to follow your adventure. The pictures are great, especially the group picture! Thinking of you!
---
Rauni and Dan - 2/16/2013
For: Agnes McKinney
Greetings, Agnes!! So hope you, Tom and all your teammates are doing well and that this journey is everything and more that you had anticipated! Can't wait to hear the stories when you return. Be safe and strong - Godspeed!!
---
Donna Kraus - 2/16/2013
For: Troy
Kara and I can't really wrap our heads around how high you are. It really is unbelievable, seeing Bristol looks tall to us :) Kara wants you to know she rode Mark at her lesson on Friday. She is very excited! We love you and Good Luck to you and Chris on reaching the top.
---
Sandi - 2/16/2013
For: Torey
Amazing!!! Keep it up!!! Thoughts with you. Believe.
---
Sara& family - 2/16/2013
No more comments are allowed at this time.