Viewing Post for: 2013 Kilimanjaro Cancer Climb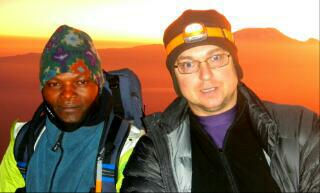 Date: February 9th. Noon
Location: Mt Meru. Summit 15,000 feet.
Temperature from 20 deg to 70. Now time to hike 3 hours down.

Wow! Everyone made it. Great weather, not much wind. Some hiking across cliffs in dark was exciting. All found it a challenge. Napping now. Some were quite impressed with how hard it was though at the moment of agony it was not expressed like that. It is hard for people to believe what they just did. All were so impressed how our African friend assisted. They had never seen such courtesy, care and gentleness. Tomorrow we get the rest of the group after a 3 hour hike out. Then showers and beers!
---
Messages for this post
For: LILLY
It's still a major wow! You guys are sooooo amazzzzing! Enquiring minds want to know ... are there blue boys up there , in case one is needed? I need a nap just thinking about what you are doing! Stay energized and safe!
---
AUNT SUE AND UNCLE DAVE - 2/10/2013
For: Chris and Troy
Hey guys, How is that "elevation training" working for you? Jen
---
Jen - 2/9/2013
For: Paul G
Paul, CONGRATULATIONS! I knew you would make us proud. Talked briefly with Mi Mi this morning. She is doing fine. Got just enough snow to ski today. Broke 4 or 5 miles of trail in "the neighborhood". Can't wait to hear more news. It is great fun being able to keep track of your endeavors.
---
Bob C - 2/9/2013
No more comments are allowed at this time.