Viewing Post for: Galapagos 2010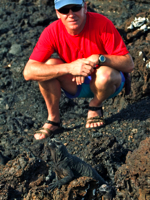 Date: April 6th
Location: Sierra Negra Volcanoe, Isabella Island.
Ride 'em cowboy! Mary Jo here. On top my bronc. We rode through the fog and rain to the crater rim. It was very muddy. Especially in the way down as the horses were slipping all over the place. We then hiked to the side of a the steaming volcano. We were just under the clouds, and could see where within the last 5 years the volcano had over flowed with hot lava. It was a bizarre landscape of tortured, flowing rocks. The clouds kept it cool. On the way back we were pretty much covered with mud. Fortunately the hotel right on the beach had a great dinner again for us.
---
Messages for this post
Currently there aren't any messages for this post.
No more comments are allowed at this time.